Affiliate Disclaimer
: At EbeeHQ, we believe in full transparency and honesty. Please note that some of the links on our website are affiliate links, which means that we may earn a commission if you click on the link and make a purchase. However, rest assured that all our recommendations are 100% genuine and unbiased, and we have a strict
editorial process
to maintain high standards. We only recommend products that we believe will be of value to our readers and that meet our high standards. Thank you for supporting us and allowing us to continue to provide valuable information and resources to the beekeeping community.
---
Last Updated: 28 November 2023
Beekeeping is an extremely rewarding and satisfying hobby.
If you're looking to start beekeeping, you're going to want the right beekeeping equipment.
Beekeeper suits are one of the most important parts, as they will act as the primary barrier between you and a whole lot of bee stings!
The most important thing is that your beekeeping suit makes you feel safe and secure so you can go about your new hobby with confidence.
We advise, that if you are considering keeping bees, you should first determine whether or not you are allergic to bee stings, since even very experienced beekeepers get stung.
A beekeeping suit is designed to protect against bee stings while giving you the flexibility to do your work around bees. A complete suit is composed of a loose white bodysuit (or jacket), a headgear with a veil that covers the face, canvas gloves and a pair of white rubber boots.
Read on to find out what to look for when it comes to beekeeper suits.
How to find the best protective beekeepers clothing
We've provided all of our specific recommendations on where to find the best protective beekeepers clothes, so that you can practise safe beekeeping.
Without further ado, let's talk about it!
Beekeeper Suits
Beekeeping suits are full-length jumpsuits that are worn by the beekeeper when they are tending to the beehive. The protective suit that beekeepers wear is usually light in color, typically white, and made out of a smooth material usually polyester.
The smooth surface also helps prevent stings by giving the bees' stingers less chance of grabbing hold of the fabric. For convenience, a beekeeping bodysuit comes with several large pockets for your tools. It is also secured by zippers and snap on velcro so you can easily get in and get out of your suit.
Beekeeper suits are worn loosely, which will allow you to move freely while wearing one. And finally, your beekeeper suit material should be meant for easy washing.
Quick Reader Recommendations: We've got a post on the Top 15 Beekeeper Suits for beekeeping, right here!
Beekeeper hat and veil
This protective headgear is mandatory, especially for beginners. When it's time to handle your bees, you will need a hat and veil in order to keep you from being stung in the most sensitive parts (neck and face).
A headgear or a hat with a veil to cover the face is important because when the alarm bells sound, bees instinctively go for the enemies' nasal passage; which would be our nose and our mouth. A mesh covering will stop any bee from stinging the skin on your face, while giving you sufficient visibility and ventilation to be able to complete your tasks in relative comfort.
The face and neck are the most important areas to protect because there will be a lot more pain and swelling on the face than any other part of the body.
Another factor that makes the veiled headgear important is the fact that when a person is wearing his beekeeping suit, the face is the darkest part as far as the bees are concerned. This means that, again, they will zero in on your face when they decide to attack.
We have a post which discusses the best beekeeper hats.
There are 3 types if beekeeping veils:
Round Veil
The round veil is the traditional type of veil and offers its users a wider view. There is a lot of space between the protective mesh and your face, making it a really comfortable choice. It usually comes with an ultra-breathable mesh that provides optimal ventilation and keeps users cool during the summer heat.
Fencing Veil
This veil comes in a more modern design that limits the contact between your head and veil. Beekeepers don't have to worry about their hair being messed up after use.
Square Veil
Just like the name implies, a square veil has a folding design that enables beekeepers to fold it up for storage in their tool bag. It has a front mesh that is pretty spacious just like a traditional round veil and the side mesh is well ventilated allowing fresh air in.
It is important to learn how to approach the bees calmly in order to avoid an aggressive assault from a large group of bees that are targeting the face.
Beekeeping gloves
Canvas gloves are recommended to protect the exposed skin of your hands while you do your work. It also keeps your hands clean and free from stains. It may take a bit of getting used to, but should be worn always for your protection.
Some experienced beekeepers sometimes choose not to use gloves because it slows down some of the delicate tasks involved when working with bees and they don't want to squash the bees mistakenly.
The issue with this is that the beekeeper may get stung badly and experience pain and swelling in their hands. Since nobody wants to get stung, make sure to cover your hands before inspecting your beehive.
Beekeeping boots
White boots are worn to protect your feet and ensure that there is no opening for bees to penetrate your skin. It actually completes the beekeeping suit for optimal protection.
One thing beekeepers should remember about their beekeeping suit is that it should be washed regularly, especially after each use. This is because when a bee stings, the stinger continues to secrete pheromones which encourage the other bees to attack as well.
In order to reduce the risk of the bees picking up this alarm, the next time that the beekeeper visits the hive, the suit should be washed. They can also rinse their hands in vinegar to minimize the bee's attraction.
Beekeeping Jacket
You may opt for a jacket over your bodysuit. But remember the cardinal rule and ensure that your bodysuit or bottom clothing is light colored and can keep you fully protected.
Choose a jacket that looks like a parka with a zipper. The ideal beekeeping jacket is one that can be fastened easily to a hat and veil using a zipper.
The appeal of a jacket for some beekeepers is to make it easy to get into the hive area and get on with regular activities right after. With a beekeeper jacket, you can simply unzip the hat and veil, shrug off the jacket and get on your way.
As explained earlier, the jackets should be white in color and must have ample pockets for keeping your hive tools. During the colder months, the jacket will keep you warm and comfortable while working.
Here's a tip to remember: You should choose a jacket that is bigger than your body as you will wear it over clothing.
We have a post where we talk about the best ventilated beekeeping jackets here.
Reasons Why You Need a Beekeeper Suit
Some beekeepers believe that the more times a beekeeper is stung, the less irritation they will feel. They believe that it is important for the beekeeper to get stung a few times during each season. But that's not the whole story…
There are some people who are allergic to bee venoms. In some cases, a bee sting could be fatal. This allergic reaction usually appears after being stung for the first time, so it is a good idea to protect yourself just in case!
There are also some really good reasons why you should wear a suit. Here are some 3 major reasons to make a beekeeper suit a top priority:
Calmness and focus
Despite your tolerance for bee stings – medically or emotionally – wearing protective clothing will give you a sense of calmness as you go about your work.
If you are like the majority of people and have a healthy fear of bee stings, then you must realize as you tend to bees that they don't like, or want to sting.
Bees only do it when they feel threatened by a person or situation. When you are calm around your bees, they will sense your calmness and will not feel threatened or want to sting you.
The light color of a beekeepers suit is yet another advantage because it keeps the bees calm. Bees connect dark colors to predators like skunks and bears. So if you plan to work with your hive while wearing dark colored clothing, you will probably get the same treatment any other unwelcome intruder would. When you wear a light colored beekeeping suit, the bees will not see you as an aggressor.
Protect from stings
This is the main advantage of a beekeeper suit. The suit offers protection from the sharp stings of bees. A beekeeper suit should fit loosely and not be too tight.
A loosely fitted suit will create air pockets that stop stingers from actually getting to your skin. While beekeeping suits made of thick materials might offer extra protection from the bee stings itself, a lightweight material may be more comfortable and will do the job well.
The loose fitting will also offer some relief from overheating. Bee suits should also be elastic around the ankles and wrists to prevent bees from getting under the suit.
Protect your bees
The beekeeping suit gives the beekeeper a way to receive stings and venom without harming the bees.
When bees are alarmed they head straight for dark colored areas. The beekeeper veil or helmet is usually made from dark mesh and this color choice will protect you and the bees.
As I mentioned above, bees are attracted to dark colors and stinging a mesh veil means that the bees may survive the attack. When your beekeeper suit prevents your bees from losing their stingers, it also protects you from being stung. It's a win-win situation.
Wearing a bee suit is not mandatory, it really makes a great job protecting you from getting stung as well as keeping the honeybees from crawling into your clothes. Consider buying a bee suit if as a beginner beekeeper you don't feel yet totally comfortable when handling your bees.
It's possible to make a beekeeper suit yourself, but the simplest approach is to buy one. It comes in several varieties. Suits with hats, veils, and gloves or without them and in many more variations. I recommend you to make your choice based on your budget.
If you must attend to bees and don't have a suit, make sure you get a veil to protect your face and ensure that it covers your face and neck fully. For beginners, a beekeeper suit is a MUST. Be sure that it leaves no holes open for bees to crawl in.
Where to Start with Beekeeper Suits
Color, Fit, and Style
When shopping for beekeeping suits, you want to make sure you get the right fit. You don't want anything too tight, but you also want to make sure your whole body is covered and protected.
For ease of movement, we suggest going one or two sizes up. You want to be able to crouch, bend, and generally move around freely while tending to your specific type of beehive.
You also want to make sure you'll have facial protection and long sleeves so every bit of you is protected from nasty bee stings.
Light Colors are Best
An important thing to remember when shopping for beekeeper suits is color. Bees are infamously not fans of darker colors.
Black, brown, or dark blue should be avoided, as these darker colors are warning signs to bees since many of their natural predators, like bears, are this color. Bees approached by people wearing darker colors are much more likely to attack.
Bees are of course attracted to bright colors, since this is part of the reason they love flowers (the main reason being the pollen, of course!)
For this reason, most beekeeper suits are either white, or just light colored. White is the most inoffensive color, but of course, doesn't have to be the only option if you prefer something a bit more colorful.
Just remember to keep it light if possible!
Now you know what to look out for with regards to fit, color and style, check out our top recommendations for an idea of where to start.
Beekeeper Suit Recommendations
We've featured all of our Beekeeper Suit recommendations below, with links to the associated Amazon products.
Eco-Keeper Professional Grade Bee Suit
Eco-Keeper's beekeeping suit comes in a range of sizes from medium to XX-large.
If you're on the smaller side, this might not be the suit for you. Definitely, check your measurements to see whether it would work for you.
The price of this suit is really reasonable for what you get. It has a two-layer hood and a self-supporting collapsible veil for dependable facial protection.
VIVO Medium/Large Cotton Suit
This beekeeping suit by VIVO has fewer size options but is extremely reasonably priced for the quality of the product you're getting.
Made from breathable cotton, this suit is easily machine-washable, while the hood is hand-washable. The head veil is made of sturdy black mesh and is spacious to prevent stings. It has a Velcro attachment for a comfortable seal.
Two 6-inch pockets are great for storing extra beekeeping tools or convenient products at hand.
VIVO also offer a beekeeping pullover hoodie if you want something different from a full body suit. It also features a handy pocket for storage. It also comes with a similar hood that offers facial protection you can put your trust in.
This is much cheaper but still a quality product and comes in both large and extra large sizes.
Hand Protection
For hand protection, we recommend pairing this or any of the suits featured in this list with BESTOPE's popular and sturdy canvas beekeeping gloves.
They're thick, while also being soft and flexible to allow for maximum dexterity.
Natural Apiary Total Protection Suit
If you're into personalization and like to express yourself through what you wear, Natural Apiary's range of different colored beekeeping suits might be the ones for you.
Not only are the colors fun, but the quality is top notch, even if you do decide to go for their plain white suit.
Their suits are conveniently machine-washable and come with pockets and sturdy zippers for maximum strength and reliability. The suits come in the following colors:
Green
Camouflage
Beige/Khaki
Pastel Pink
Sand
The suits all come in a wide range of sizes from XX-small, all the way up to XXX-large. When you get the right size, these suits can have a really snug, comfy fit. They also have added foot elastics to prevent sagging and keep the suit in place.
For the choice of options you get, these suits are also very reasonably priced. So if customizability is your thing, be sure to check out their Amazon Shop as they have jackets and hoodies available, too.
Humble Bee Ventilated Suit
This is another suit that comes in a wide variety of sizes, which makes it accessible for all kinds of different body shapes and sizes from XX-small to XXX-large.
Humble Bee's ventilated suit comes with cushioned knee-pads for extra support when kneeling and bending over while beekeeping. Elasticated thumb and foot holds keep everything in place for a comfortable, tailored fit.
The suit is a unisex design suitable for men and women between 6'4″ – 6'6″ (192 – 197 cm). For extra convenience, the veil on the hood is removable for easy washing.
One of the best parts about this suit and this brand is that with every sale, Humble Bee donates 10% of its earnings to non-profit organizations that encourage and promote bee conservation efforts and localized beekeeping activities.
Therefore, with every purchase, you know that your money is going to a worthy and important cause.
Ready to Buy Your Own Suits?
Shopping for beekeeper suits don't have to be difficult, since we've featured the best 15 bee suits here!
Whether you're practising urban beekeeping or are out in the country, you want to make sure you're well-protected when having a go at this fun and unique hobby.
To find out more about us and learn more tips and advice about beekeeping and beekeeping equipment, check out some of our other posts!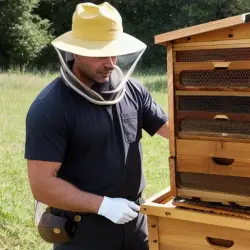 Latest posts by Steve Cruise
(see all)