Affiliate Disclaimer
: At EbeeHQ, we believe in full transparency and honesty. Please note that some of the links on our website are affiliate links, which means that we may earn a commission if you click on the link and make a purchase. However, rest assured that all our recommendations are 100% genuine and unbiased, and we have a strict
editorial process
to maintain high standards. We only recommend products that we believe will be of value to our readers and that meet our high standards. Thank you for supporting us and allowing us to continue to provide valuable information and resources to the beekeeping community.
---
In this article, we're going to be discussing our selection of Beehives for Sale, which have been chosen based on their customer reviews, customer ratings, and general usability.
The beehives below are suited perfectly for the recreational beekeeper, but can even be used if you're looking for commercial bee hives for sale, you'll probably just want to buy more beehives than the average beekeeper if that's the case.
For more information about each Bee Hive that we've featured, the links below, within the main article section, will direct you to the specific product page, where you can look at product reviews from fellow purchasers.
For new beekeepers, take a look at our we have a guide on how to start beekeeping, the cost of beekeeping, as well as the different types of beehives that exist.
For those who are looking at Polystyrene beehives, Plastic Beehives, Flow Hives or even Beekeeping Starter Kits, we have a great selection available, otherwise, take a look at our range of beehives below.
The bee-hives for sale below are positioned in their current order based on customer review ratings, therefore the hive at the top has the best customer reviews.
Taking these beehive reviews into account is extremely important, and a good indication from other beekeepers on which nuc for sale is best. After all, a high-quality nuc will ensure for a healthy bee colony.
Last before least, we realize that beekeeping isn't the cheapest activity, but we highly recommend not buying a cheap beehive for sale, because as always, you get what you pay for! It should be treated as an investment in your bees.
So let's get to it, what are the best beehives for sale?
Best Honey Bee Hives for Sale – Top 6
Apimaye – Langstroth Bee Hive

EzBee – Automatic Flow Beehive 

VEVOR – Automatic Flow Honey Beehive – Editor's Recommendation

Flow Hive Classic Cedarwood Langstroth Beehive (Patented flow technology)

Lang Automatic Free Flow BeeHive – 7 PCS flow frame

Goplus – Flow Honey Beehive 
---
The Insulated Langstroth Bee Hive made by Apimaye has scored highly favorable reviews on Amazon, although this alone may not make it meet your particular beehive requirements, it's always nice to know that it's a product with a thumbs up from other customers. Designed for both beginners and professionals alike, it comes already assembled and does not require painting. Built to withstand extreme weather, this bee-hive has been specifically designed to prevent the build-up of moisture, which in turn means that your bees survive the cold winter without consuming as much honey.
The standard beehive features include:
Featured bottom-board which is fantastic for combating Varroa mite and small hive beetles.

Split bee-hive entrance, comes with entrance reducers, division & uniting board, alongside 2 top feeders for the right & left side of the split hive.

It also includes 7 plastic handy frames that can be used with wax foundation only. There is the option for you to have a

 7 frame hive, or two 3 frame bee-hives with a board division in the middle. Hence, making this hive ideal for queen rearing and then splitting the beehives for the ability to sell bees.

The Ezbee automatic flow beehive is a complete 2 box kit, all you need to do is add the honey bees and leave them to work.
The beehive is made for Fir [Cunning Hamia Lanceolata] and is sealed with a natural beeswax to help preserve the wood against water damage. This beehive does not require any further modifications, finishing or painting, and we highly recommend this is not left in the rain, as Fir will only last 18-24 months in heavy rain weather.
The dove-tail joints and boxed corners allow for a tool-free assembly of the beehive, perfect for the beekeeper who wants to get it built and prepped for an immediate influx in bees.
Update: We believe that this product may not be available on Amazon currently, but we will provide updates accordingly if this changes. Otherwise, feel free to click the product button above to see for yourself.

This Cedarwood beehive is the perfect solution for someone who is looking for a free flow bee hive for sale, providing a no mess, no fuss and generally inexpensive (considering the average cost) beehive to store their honey bees. This hive is an attractive prospect and appeals to a wide audience, from aspiring/beginner beekeepers who want a hit-the-ground-running beekeeping solution… to the experienced beekeepers, who value their time and ease of access when it comes to harvesting that lovely honey.
Ok, so let's get down to the technical specifications of this beehive, shall we!
Made from a high-quality Cedarwood
Comes with a 7 PCS Autoflow honey beehive frame, weighing 12KG
The frames are designed with high quality, food-grade BPA-free plastics
Ability to shorten frames if needed
Capable of producing around three kilos of honey per frame
Visibility of when honey is ready to be harvested through the clear end frame view
The easy extraction process, just turn the flow key and the fresh, pure honey will flow right out.

The flow hive classic is carefully designed and crafted for ease of use. This particular model hive contains 6 Flow Frames featuring Flow's revolutionary honey harvesting technology, so you can get harvest your hive without needing to worry about disturbing your bees or their habitat, all you need to do is turn the flow key.
These authentic Flow Hives are manufactured between Australia and the United States of America. The company are so confident with their product and service it provides, that they offer buyers a 12-month warranty, beginning from the delivery date.
Crafted from premium Western Red Cedar Wood
Includes Flow Hive's revolutionary honey harvesting flow
The Flow Hive Classic includes a modified 'upgrade' Flow Super
Includes a pest management screened bottom board
The beehive also includes observational windows and Flow's distinctive gabled roof styling.

This Lang automatic flow beehive includes a 7 PC flow frame, suitable for any beekeeper looking to make their life more convenient, and that of their honey bees. The beehive includes a Flow Key to allow for honey to be released from the frames, ready to be jarred, no mess and no fuss, just smooth as honey!
The frames themselves are food-grade plastics and hence they are BPA & HDEA free, so there's nothing to be concerned about there.
Let's see what's included within the pack:
Hive roof, bottom board
Brood box
Super box
Queen bee excluder
Inner cover
7PCS frames
Flow key
7 Tubes
10 Screws
1 instruction manual
Obviously, you'll need to buy the bees separately

The GoPlus beehive is made from high-grade cedarwood, which is aesthetically pleasing, being gently polished to give it an ultra-smooth finish. The cedarwood itself has been coated in a high-temperature boiled wax, which keeps the hive water-resistant so as to avoid unwanted mold or other natural growths that would negatively affect the overall hive ecosystem.
The fantastic thing about this hive is the capability to 'provide honey on tap' with the auto flow tap. All you need to do is insert the allocated key, rotate and the honey will flow out of the comb. Another particularly useful feature of this beehive is that it offers both side observation windows, so you don't need to take the lid off, or disturb your honey bees from doing what they do best.
The standard package includes:
7 high-grade combs, made of food-grade polypropylene, featuring a sanitation standard guarantee.
One Cedarwood Honey beehive, with auto-flow and 2 observation windows
One honey key, 7 harvest tubes, and an instruction manual.

In Conclusion, which beehive for sale is suited for you?
We hope that you are satisfied with the featured honey beehives for sale within this article. Although if there's one thing that you should know, all of the hives that we have talked about are fantastic, so what are you waiting for, get your beehive today!
Our editor's recommendation is the VEVOR – Automatic Flow Honey Bee hive, due to its practical design, functionality and great customer reviews, so why not take a look at that!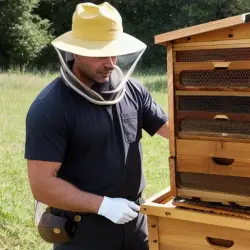 Latest posts by Steve Cruise
(see all)