Affiliate Disclaimer
: At EbeeHQ, we believe in full transparency and honesty. Please note that some of the links on our website are affiliate links, which means that we may earn a commission if you click on the link and make a purchase. However, rest assured that all our recommendations are 100% genuine and unbiased, and we have a strict
editorial process
to maintain high standards. We only recommend products that we believe will be of value to our readers and that meet our high standards. Thank you for supporting us and allowing us to continue to provide valuable information and resources to the beekeeping community.
---
At ebeehq.com, we participate in affiliate advertising programs. This means that we may earn a commission on some of the products that we recommend if you make a purchase through our links.
We are a participant in the Amazon Services LLC Associates Program, an affiliate advertising program designed to provide a means for us to earn fees by linking to Amazon.com and affiliated sites.
We also work with Ezoic, a programmatic advertising platform, to monetize our website. Ezoic uses cookies and other technologies to collect data about user behavior to optimize our website and provide personalized ads.
Rest assured that our opinions are not influenced by the compensation that we receive from these programs. We strive to provide our readers with honest and accurate information about beekeeping products and equipment, and we only recommend products that we believe will be helpful and beneficial to our readers.
If you have any questions about our affiliate partnerships or the products that we recommend, please feel free to contact us. We are always happy to hear from our readers and provide any assistance that we can.
Thank you for your support of ebeehq.com!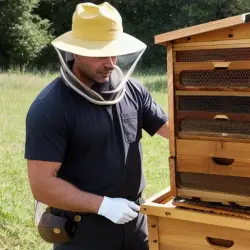 Latest posts by Steve Cruise
(see all)